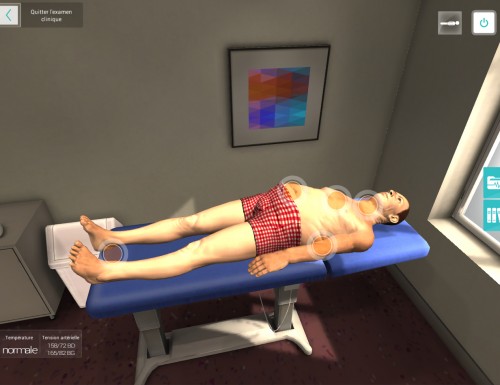 Development of cardiovascular pathology of male aged 52-58 years (Family physician)
Cardiovascular development over six years of a patient with multiple risk factors. First consultation for a simple routine medical exam. As the family physician, you will follow the patient over 5 consultations. The patient is also being monitored by his cardiologist: Case – development of cardiovascular pathology of  male aged 57-58 years (Cardiologist).
Free
[medicactiv_login_link type="view" id=522]
Firefox or Safari, ADSL 8Mb/s or +,
Unity plugin required
or
[medicactiv_login_link type="download" id=522]
New version available
PC - Windows XP or +, Core i3,
MAC - OS X 10.7 or +
Target audience

Medical student, family physician
Author

Cardiological hospital of Haut-Leveque, Bordeaux University Hospital
Publication date

20151009
Estimated duration

1 hour 15 minutes
Key words : #hypertension, #dyslipidemia, #smoking, #work stress
Pedagogical objectives
primary medical preventative check-up
diagnosis of heart failure
therapeutic optimization and monitoring of heart failure.
Patient profile
52-year-old male
Author
Lead author presentation
Hospital physician - Cardiologist, specialist in heart failure
Other authors
None
Other related cases
Development of cardiovascular pathology of  male aged 57-58 years (Cardiologist)
63 year old man hospitalized for heart failure
63-year-old male, development of heart failure after hospitalization for atrial fibrillation (family physician)
63-year-old man, development of heart failure after hospitalization for atrial fibrillation (Cardiologist)
Legal information
Reference sources
Global cardiovascular risk assessment methods
Reference HAS 2004
European Society of Cardiology guidelines on cardiovascular risk factors 2012
European Society of Cardiology guidelines on arterial hypertension 2013
SCORE index calculation chart
Statement of interest
None